An island nation roughly the size of Singapore, Bahrain sits in the Arabian Gulf ( Persian Gulf ), wedged between Saudi Arabia and Qatar. Widely regarded as the Middle East's premier resort area, Manama, the capital city, offers visitors an intrepid juxtaposition of modern opulence and traditional, Old World customs. Indeed, in the shadows cast by contemporary resort hotels and Western financial institutions, public markets called "soukhs" buzz with shoppers and vendors haggling over everything from handmade pottery and woven baskets to jewelry and exotic cloth. For centuries, pearls and pearl diving have played pivotal roles in the country's economy - the name "Bahrain" translates as "two springs," a reference to the shallow waters surrounding the country. While pearl diving is not recommended for visitors, other forms of scuba and snorkeling are, since the warm waters and coral reefs are home to a colorful array of triggerfish, sea turtles, lionfish, clownfish, sea cows, and whale fish. Attractions in and around Manama include the old Portuguese Fort, parts of which date back to the third century BC; the National Museum, located in a historic structure (circa 1937) that housed Bahrain's first Supreme Court; the Salman bin Ahmed Al-Fateh Mosque, open to the general public and the country's largest building; and Bait Al Qur'an (the "House of the Koran"), whose collection of holy texts contains items that date back to the seventh century. After a day of sightseeing and shopping, be sure to avail yourself of Manama's impressive restaurant scene, which features a global potpourri of options, ranging from Tex-Mex and French to Cypriot and Indian. Providing a true "taste" of Bahrain, street side vendors serve up delicious portions of shawarma and baklava.
Flag
Info
Independence Day: August 14.
National Day: December 16.
Religion: Islam.
Language: Arabic.
Capital: Manama.
Time: 3 hours ahead of GMT.
Currency: Bahraini Dinar.
| | |
| --- | --- |
| Statistics | Avg. Temperatures (°F) |
| | | | | | | | | | | | | |
| --- | --- | --- | --- | --- | --- | --- | --- | --- | --- | --- | --- | --- |
| | Jan | Feb | Mar | Apr | May | Jun | Jul | Aug | Sep | Oct | Nov | Dec |
| High: | 66° | 69° | 75° | 84° | 92° | 97° | 99° | 99° | 97° | 90° | 81° | 72° |
| Low: | 58° | 60° | 64° | 72° | 80° | 85° | 88° | 88° | 85° | 79° | 71° | 63° |

Map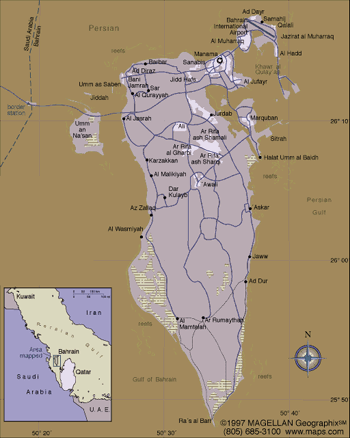 More About Bahrain